As an alternative to the Full-Bible read, we have an abbreviated plan – the Partial-Bible Reading Plan.
So what's the difference between the Full-Bible and Partial-Bible Reading Plans?
Both are 60-day reading plans. But the Partial plan covers roughly 33% of the Bible and involves 20-30 minutes of reading each day.
We typically invite families to read together in the Summer.

With a more relaxed reading pace, this plan focuses on the Bible's big picture – following the journey of "The Seed," a theme that Power Readers have found invaluable in understanding the Bible. 
Receive the free plan and insights via email by subscribing below. Or buy the book: here.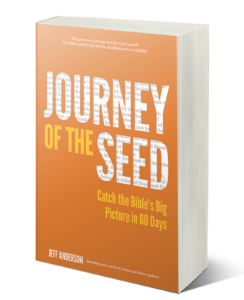 This Partial Plan has its own online subscriber journey, separate from the 100% Full Power Reading Plan. The next reading cycle will begin Summer 2020. 
You'll receive:
The 60-day reading plan – free!

Tips to prepare for a successful journey

Daily encouragement and insights for 60 days
Your entire family is invited, too…
Yes, this means your spouse, teenagers and children!
This Partial Plan is great for the Family Bible reading journey we host during summer months when school is out and family schedules are more relaxed. 
I know what you're thinking… Is that even possible? Reading the Bible as a family?
As someone who's led hundreds of people though the Bible, I can say it is possible, even in a home with busy teenagers. But you need the right expectations and a solid plan.
Teens have tremendous capacity to read and understand scripture. Will you challenge them? Will you challenge yourself?
And children enjoy the experience as well.  
Subscribe below and as we approach summer months, I'll send you the simple plan, and tips to make this a rewarding experience.